What's that you say?!?!?! Groupie, me? Uhmm, yeah, lol;) Mind you, I have absolutely NOT had sex w/any rockstars…swear…pretty sure…hey, just kidding… What I have done is go to about 24 or so musical events/concerts/gigs, this year…note, my prior count, lifetime was about 4 major concerts and less than a handful of small bar type gigs…
And let's not forget, of that total double dozen count, sweet 16 of them have been INXS shows… Yes, you heard me…INXS . Before this year, they were but a musical reminis
cence for me of years past…this year they became my heart. (see INXS concert recaps)
I did do a few other things this year…I did go to South Korea…and wow, what an awesome experience that was. I almost went to Austrailia and Europe, but those did not pan out…I will have to plan those in upcoming years.
In the end though, this year was all about the music. Music and all the friends I have made through the sharing of the love for it. I can thank (or blame) Rockband.com and the lovely people that post on the forums there for helping make this year so awesome. I can also sincerely thank a band, that 18 or so months ago, I barely thought about…INXS, for pushing me to this journey. Or maybe I should thank Mark Burnett…whose reality TV series Rockstar, has seemingly changed my musical life forever.
What started out as whimsical summer viewing on Tuesday/Wednesday nights in the summer of 2005…somehow, what followed has enveloped and shaped the entirety of my year this 2006. Watching this one dude win, what seemed to be his dream, to front, a band I fondly remembered from my youth…warmed my heart. I had no idea that is would shape my very existence.
So the year…how did it start? Well, I believe it began, more or less, with me deciding I needed to post more on Rockband.com since I was going to be meeting a bunch of 'em in Vegas at the end of January. Yeah, the madness that had been fed by obsessively reading the forum there, was just about ready to spread…
So, by mid January, I was ready to attend my 'first' INXS show. I had tickets to this show, here in Seattle, and to the Las Vegas show…which was a convention or massive gathering of sorts for folks post Rockstar, to come together from the various fan communities. It was supposed to just be those 2 shows…
So, on January 18th, I was there…here at the Paramount…front row just behind the 2row Pit (I had sprung for some upgraded seats)…I ended up w/noone in front of me…just about 5 feet in front of Tim Farriss all night. The band, that I had fallen in love with, in a whole new way than I ever admired their music back in the day, I was getting to see live, with that guy that I had wanted to win, on that TV show I had watched…
I was beside myself. First I had never seen a concert from that close before…practically at the stage… Next, I had simply never been to such a show. This band was so good on stage. Each member, amazing…connecting with the audience. I was in awe. (my Seattle show recap here)

Not barely a week and a few days later, I was in Vegas, at another show…After a preparty gathering of the folks from Rockband.com, there was the big show. I had brought one of my friends along…who was not a big fan…she was blown away at the show—we were not up front, rather in the stands with the common folk. Apparently, the lead singer, JD, was sick, but honestly…it was still an amazing show…the energy in the 10K or so people that were in that room. It was a thrilling experience. Following this, there was an afterparty sponsored by the forum I had been reading/posting at (Rockband.com). It was just some of us fans, and one of the contestants from the previous summers Rockstar, Deanna Johnston was performing. No the band(INXS) was not there, so don't go thinking it was that type of party, lol…It was just a chance for all of us that had been waiting for this for so long, and for folks that had gotten to know each other online, to finally meet in person, and share this great experience. It was interesting…I feel like I kind of met some people, but it was odd…so many…and so many of us…uhmmm, a bit shy… but it was still great fun. I was so glad I went…that was supposed to be the end of this little INXS adventure come obsession. What a great ride… (Vegas show recap)
Well, that was not then end, rather just the jumping off point. I kept posting at Rockband.com . I got to know the posters online better as time went on…In fact, not even a full week later, one of the leading members, posted about some front row tickets becoming available on ebay for some rescheduled show in St Charles (suburb of St Louis)…for some crazy, undefinable reason, 6 of us, bought them, and decided to all go, to the middle of the country to see INXS …again!… what was up. Was Vegas not enough? The lure of the front row, was strong, and airfares cheap. There was no turning back on this journey now.
So we all ended up in St Charles. It was an amazing show, to say the least. I met up with some (some I had met briefly in Vegas) of the most amazing people here…many of which I call good friends today. The bonds we formed here, in the middle of who knew where USA…I will always treasure. The concert, the addiction that was INXS, exploded. (St Charles recap)
It was some time later a few wks I guess, when I found out I would be attending a work conference in Nashville the same time INXS had a show there in April. Needless to say I bought a ticket. And not just any ticket. One that eventually landed me in the front 2 rows of pit. It also, was an amazing coming together of many other Rockband.com members…we dubbed it Nashvegas. I had a great time meeting so many more folks I had come to know through this amazing online community. Also, a side benefit of my ticket was a meet and greet with the Band…don't get too excited…it was just a kitchy little photo op w/the band, and them basically coming down a line of us, chatting briefly and signing stuff. But still, it was fun, to see them face to face, and tell them how amazing they were, and thank them for some great shows. This was really a special show for me, meeting the band for the first time, and really meeting and getting to spend time with so many Rockbanders. (Nashvegas recap)
So, was the madness over yet? One would think. But no, the band had a couple more dates scheduled close to me again, here in Seattle and Vancouver (BC). I bought tickets.
However, in a surprising turn, my sister called me not 2 days after I sprang for a front row Vancouver ticket, with an amazing opportunity. She offered me a chance to go along with her to South Korea for a week. Unfortunately, this was the same week, that INXS was going to be in Seattle and Vancouver. But, what am I thinking…I only had to buy airfare, the rest of the vacation was paid for…I had already seen INXS 4 times. I had to go with my sister. Family and grand international adventure was calling. I made the only logical decision, and I am so glad. Korea was amazing. The people were beautiful and kind. The country was so rich with cool things to see, do, eat! The pictures were amazing that we took on this adventure. I am so happy I took this little detour in what is otherwise a tale in excessive concert going… Traveling, is one of my first loves. It was great sharing it with my sister, and experiencing this land first hand was truly an honor.
So, was my year in groupiedom, cut short by real life trans Pacific adventure to another land? One would think. But no, not a week later, rather just 4 days after my return from overseas, I left on a trip I fondly call California Dreamin'. I took a groupie vacation if you will, and went to every INXS show from Reno to San Diego…meeting up with friends, staying at houses, and hotels with my friends I had met along the way.
Seeing a band play, almost every night to fans that simply love them. I cannot tell you what it was like. Needless to say, band run ins, poker, flowing cosmos, tour bus tours, lol…it was amazing. The friends I had made during my concert going and posting online, helped make something unimaginable a year before, be so amazing. Being a fan of a band I had only one cassette tape of, prior to the previous summers TV show…had brought me so much joy and so many friends, I can never thank them enough. The music, the sound track to this journey…INXS baby…they are simply like no other.
So with that ended my bit of groupiedom…for a while… I had contemplated going overseas to see them in Oz and / or in Europe, but those trips never materialized for me. That was ok, I had definitely had my fill. Over the summer, I let the latest incarnation of the Rockstar series take me away. I had become a moderator on Rockband.com and watched the show, discussed it and snarked on it with an expanded community of folks. It was really cool. I had not experienced the show quite like this the previous summer. It was different though…there was not a band that had those youthful memories for me, trying to find a singer, rather a new one, that honestly, I never got too invested in. The folks they presented to us on TV, did not initially impress me…but as I started to listen the off show efforts of some of them, and the show progressed, I became a fan of many.
I even planned on going to a taping. I ended up going to the taping of the main performance show the second to the last week. I got to meet up again with so many friends on this trip. We even got to go to a 'red carpet' commercial taping the day before. It was cool. I was amazed at what it took to put a show like this together…and surprised again at how different it all is when you see it sans editing…you get to see all that really happens, not just what ends up on that hour of TV. The singers even sound different! And the energy…live music…it is simply impossible to trasmit that over the television screen. I am so glad went. I plan on going flying down for a few next summer if at all possible. It is like a free concert (not counting the airfare)…and just an amazing experience.
Thus begun the second half of the year…the year that I discovered live music in general…to an extent that I had never bef
ore let come into my life. I guess all that INXS concert going madness was now spreading!
One of the contestants from this summers show, that was dismissed early…I had become a big fan of his bands music, Lennex. I simply thought their CD's were amazing. As luck would have it, I decided to hop a quick flight out to DC /MD area to see one of their shows, and meet up with some of my east coast Rockband friends. I am so happy I did. I was blown away by this band live. I even got to meet (and hug! Squee!) the lead singer…and take a lot of pictures! It was fun. I could not believe that another season of Rockstar, had brought me to be a fan of another band! And it wasn't even the winner this time…lol, I think I am a goner;) (Lennex, Live! read all about it here!)
About a month later, I saw another band (this time local!) called Blue October. What is funny, is that I was exposed to their music because one of the contestants from this years Rockstar, sang one of their covers on the
show, Razorblade. I was intrigued by the sound of the song that I was previously unfamiliar with. Added to that, I had heard some other positive buzz about the band following this…so when I learned they would be in Seattle, I bought the tickets! And all I can say is WOW! They are simply phenomenal. I now own 2 of their most recent CD's, and seriously plan on buying the rest of their back catalogue…their music is great! Live, they are stunning. Not the prettiest bunch, lol, but intense, excellent and passionate musicians.
The following week, I had tickets to the sold out Killers show here in Seattle. They were pretty good, but honestly, they did not compare, musically, in my opinion with Blue October. I am extremely happy I went though, it was a fun show. My favorite songs were live were off of their previous album, Hot Fuss: Somebody Told Me, and Mr. Brightside. (Read my little review of Blue v the Killers here)

The next day, I was headed down to spend some time with my mom, as she was to be recuperating from knee surgery. I had a lay over in San Diego that I engineered to meet up with some friends again, and go see Ryan Star…yet another contestant from this most recent series of Rockstar. He is, simply, gorgeous. LOL. And, an amazingly intense musician, and really good songwriter. It was fun to get to see him in a small setting, doing his thing. I listened to his live CD(that he put out with at the end of this season backed by the amazing Rockstar House Band) on the drive up from San Diego to my moms. Really good CD.
Are you thinking I am done? Tsk, tsk, not so much;)
I found out in October sometime, that Paul Stanley (of KISS fame) was touring with the Rockstar House Band as his supporting band! I love them! They, honestly, are half the reason one watches the Rockstar show. I got to meet(briefly) a couple of them when I went down for a taping, they were so sweet! And live, at the taping they were amazing. I knew, another opportunity to see them peform, was too good to pass up, even if I couldn't care less about this Paul Stanley fellow! Ha ha…I was right…
In early November, the Paul Stanley tour touched down in Seattle…me, armed with my ticket, met up with, yes, yet again,
some fellow rockbanders and set myself up front and center! I was excited once the show started that it looked like we would be able to take pictures…this is something I had come to really enjoy at some shows earlier this year, the opportunity to take photos of the band…as a fan, it was fun to capture the moments on stage, to look back on. And oh my, the House Band, was blazing…they rock out on stage, play their instruments so brilliantly…it is almost blinding to the eyes and ears. Stunning they are on stage…I almost have no words. Sasha…surprisingly, wowed me even more than I anticipated. He is their HOT bassist…uhmmm, yum! His bass lines are amazing. Rafael, lead guitarist…O…just sayin. Nate, back there on drums! Yes…Paul Mirkovich on keyboards, and Jimmy McGorman on Guitar…just awesome. They made me think I was a Paul Stanley fan by the end of the evening! LOL…I cannot say enough about these guys. They are the best. Period.
What could follow this? Well, I got to see Storm and the Balls the following weekend. Storm Large was another
contestant introduced to me via this years season of Rockstar. She is really an amazing woman. I got to sit in and record an interview one of my friends (yes, from Rockband—who flew in from OKC!) who conducted with her, before the show. I cannot tell you how much I like and admire this woman….she is not only gorgeous in pictures, amazing on stage, but truly a beautiful spirit. Her show that night was incredible.
Aww, the holidays, a break from the musical madness that has overtaken my life…Thanksgiving…I spent this year with friends rather than family…a conscious choice as I really did not want to travel during this holiday weekend. I am so glad I did this. It was relaxing, and friends are truly an amazing thing to have in your life…and in a way, are a type of family. It was a good holiday.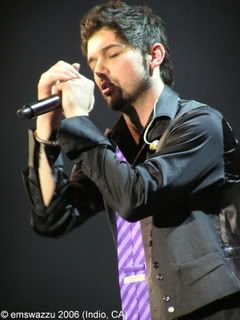 But never fear, a few more musical shows were in the offing. It turns out, that INXS had scheduled their last 2 shows of the year, in California…yeah! It was time to reconvene the California crew! Well, not everyone could make it, but the few I got to meet up with, and good friend I got to stay with made it an awesome trip! And seeing INXS again…probably a perfect circle to this fine year. They were a couple of interesting shows. So Cal shows and the fans…very devoted to say the least. The first show at the Disneyland House of Blues…out of control crush…and the boys, on stage, were as remembered, amazing, though, uhmmmm, feeling no pain (yeah I caught a wiff of their happy sauce pre show—just sayin;) Made me kind of munchie. And Indio, the very last scheduled concert of the year…it was really really good. They were on, like only INXS can be on.
They had a special guest guitarist come on during encore, and their love for eachother and for performing was at it's height here. This trip ended, not with this INXS show, in the desert of of Southern California…but at my friends house, shooting video of her pug dog Coco…adorable pooch, hilarious video. Coco is a 'star' 😉
One more bit of musical madness to cap off the year…a quick trip I paid for via miles earned 😉 I had the chance to pop over to Baltimore again…and the chance to see Juke Kartel (fronted, by wait for it…another of the contestants from this years Rockstar)… And of course, meet up with some fellow Rockband friends again. Always a good time. Though Juke Kartel did not blow me away with their sound or songs, I found them all excellent musicians on stage, all very pretty and hot!, and Toby, their lead…has a really good voice. I will be interested to see where they go from here. I wish them the best. Another of the bands from this night, did spark my musical interest though, Whitestarr, I am going to have to look up their music! See, alls well that ends well.
So that is it …the Christmas and New Years holidays await. I will be spending them with family. I have yet, no concert plans for 2007, though I am sure I will attend a few. However, I expect nothing will ever compare to the outrageous ride that 2006 has been. I know, I will never see a band 16 times in a single year, ever again! I am pretty sure real life happenings other than concerts will take precedence once again in my little reality. Though I am also sure, I will continue to partake in live music, and make sure it is a significant part of my life from now on. While this year has been outrageous, I am looking forward to the fun, this years experiences will lead me to in years to come. And to the great friends I have made…there are no words. I can only say, I love you all, and I cannot wait until we meet again!