Many more pix that should be added…maybe someday!

---
Day 9 is return to the other side:)
---
Day 8 – previously closed palace…
will post later
---
next up Day 7…the DMZ!
added –
view of N. Korea –
some monument along the dmz tour stops…

---
Day 6 Gyongju…
We get up an out early…this ends being a VERY good thing!
First up, Bulguksa temple. Beautiful. We took the city bus up. Almost got off at wrong stop…it would have been a walk to the next, so REALLY glad we got back on!
So we get there…wander around. There was only one tour group there and a couple of individuals (like us) so it wasn't too busy yet…this is good…much more peaceful and better pics! And it wasn't too warm yet…all good things. Took lots of great pics…
Of the temple:

A buddah inside one of the buildings:

Next up, took bus/shuttle up to Seokguram grotto. This was very lovely, a high vista point that you can look out from the valley. It is a bit of a walk out to the grotto area, but nice. When you get there , you have to climb up a bit of stairs but not too bad. A great place. We ran into some school children/group and the kids are great…they see us as a opportunity to practice a bit of english…they are all like 'hi', etc…very cute, and friendly…We spoke w/their instructor/leader, and he told us how he studied a bit abroad a ways back…Berkeley…
Pics from of the grotto area: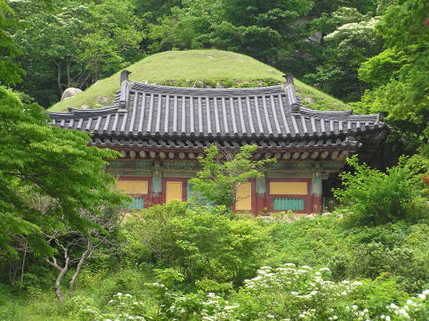 By the time we get through here, we head back to Bulguksa, and have lunch in the little village town. Straight up little korean restaurant. We were the only customers. I think it is really quiet there during the week.
Then we head back to town, stop off at our hotel to pick up our backpacks, and then into town…drop off packs in lockers, and head off to visit one of the main parks w/the tombs…
pic of one of the tombs…inside there is a cross section…but no pics inside were allowed…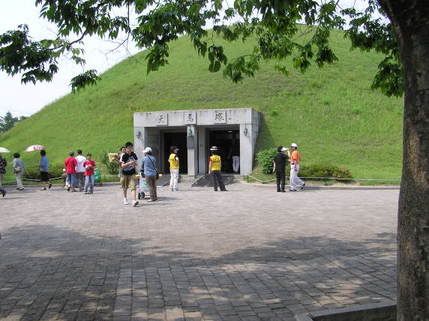 ---
Day 5…The Wedding and a REALLY long bus ride…
This was a very easy, non active day…We basically got ready for a noonish wedding…went… It was a very Western style wedding. An interesting detail is that the wedding procession/ceremony was combined w/the reception-very efficient! It was in a very upscale building (GS Tower) much like a really nice hotel wedding. Afterward they had a very traditional Korean small gathering. Now the main christian ceremony and reception had 2 rooms w/about 800 guests…the smaller traditional ceremony was less than I would say 30ish people…
Picture of main ceremony/reception hall before wedding: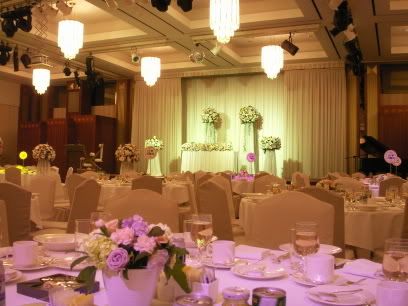 That afternoon, we decided we would go on a overnight day trip to another popular destination in South Korea: Gyongju. The most efficient way to get there is by bus, so we did this…4 hour bus ride…but it wasn't too bad; nice bus and we stayed at a really nice hotel resort between the city and the temple area where we were headed the next day.
May expand more on this day later…
Day 4…market shopping!
So, if Day 3 was Palace day, Day 4 was market day. We chose the major one downtown called Dongdaedum. It is basically a market district in part of downtown. There are textile markets, and jewelery markets, shoe markets, etc. There is even an upscale department store(s) to go along with everything. When we got off the subway (after doing our typical pastry/coffee stop before getting on) we ended up at one end of the shoe market, which is really a long hall of stalls, with a mileu of shoes on display. There are just massive amounts of everything you can think of. The whold think is a block or 2 long, of nothing but shoes. Some cool, some justk, yawn. We saw a couple of cute options, but nothing that made us pull the trigger.
So we got done w/that after 2 pass throughs, and headed across the avenue to what we thought was the main market place. I think we actually ended up at the fabric/textile market. There was floor after floor of fabric and trim. The kind for bedding (they had alot of name brand fabric like Pierre Cardin, etc), for traditional dress, laces, wedding, leather, idustrial, pretty much EVERYTHING you could think of. I could have spent all day just there…and we spent an hour or two…I bought a couple of yard of some various trim; sis bought a few yards of some colored traditional silk for my mom. We wound our way out of the fabric market and ended up in the jewelery/bead market. We spent ALOT of time there. We got a couple of items for ourselves, but mostly got gifts here…either already assembled or supplies for us to put pieces together. It was so much fun. Basically a gigantic wharehouse floor (3 or 4th level of market place) of nothing but fashion/costume jewlery supplies and whatnot. Sis pickedup a piece of Jade for my aunt by request, I got a pair of earrings for myself-she got parts to make herself stuff, but a necklace already made…and we both picked up, as mentioned already, lots of gifts. Did I mention this place was endless????
Ok, at this point our feet were killing us (well mine were!) so we decided to get some food/lunch. We headed out of the marketplace, and found the department store, which has lots of restaurants/food courts/coffee shops, etc. We ended up at the food court and got I think a Korean/Japanese or something option. It had some bogogi(sp?) and fried rice and noodles w/sweet and sour. Anyway, very tasty.
After eating/resting for a bit, we headed down to the bank to get cash, that was in the basement of the store…spent some time there right before close(good timing). Then proceeded to shop. My sis was having some purse issues, so we shopped in purses. She got 2! lol…I got one…in fact the one that I got is identical to one of hers, lol…we are twins…not! We will not be walking around w/the same bag here, no worries…but that would be funny!
We admired all the clothes in this store. Very very fashion forward. Trendy, w/o being all outrageous prices. To bad everything is so SMALL, or that we are so BIG, lol…the clothes were adorable and so NOT what you find stateside… Korean have access to so much good and cheap fashion, I am jealous!
So at this point we are completely spent…ALL DAY SHOPPING, lol…no pictures, but lots of time looking at stuff! We are looking for the subway, but end up in another, literally underground market…sigh…Oh, but sis actually buys some shoes! Anyway, finally have to find actual subway, and head back…it is rather late by now…and we thought we would be able to hit more than one market area??? not! After resting a bit, we do to dinner in our hotel…it is almost closing time, and we are the only ones left! oh well. We get to go into the Japanese restaurant, an
d
they let us order off of either of the 2 restaurant menus, so we order on Japanese dish and 1 Korean one. We eat, we head back up to room…sis starts to put together some of her jewelery, and I crash! snooze…
next day…we go to friends wedding…
---
Day 3 – Palace day…
Must find names of Palaces we visited in and around Seoul today…the first one, Gyeongbokjung, was very imperial…beautiful. We went on a guided tour, and were able to see the changing of the guard when we left. I got alot of really cool pics.
Me in front of a building(????) at rear of palace…

inside one of the buildings…(Kings quarters?)

one of the guards:

In between, we went to lunch…Insadong, part of downtown…REAL Korean food this time…I had this cold noodle thing w/buckwheat noodles…my sis had this rice bowl thing w/a fried egg in it(she will tell me the name of it for accuracy later!). And I topped it off as we continued shopping, w/a green tea ice cream cone! hey, simple pleasures!
The second palace, Jongmyo. Anyway, it had a much more park feeling. It actually took us a bit to get to, b/c the entrance was not where we thought it would be…well, first we stopped at one on the way, Changdeokgung, and it was closed(oops!) then when we proceeded to the next 2, Changgyeonggung & Jongmyo(that were just down the street we thought)…anyway, we couldn't find the entrance to either one, so we caught a taxi, and he took us to the front of one of them, the aforementioned, Jongmyo. It was a very park like setting, and much less imperial. But very tranquil and pretty…

Then back home (on the subway of course)…after resting a bit, we thought we'd go to the Hard Rock…so we went to a rather upscale/Western part of town, and I think it is under rennovations and/or closed, b/c we could not find it…it was not open where the taxi let us off…so b/c I was being a total beyotch, instead of trying some fusion places that were right there or something, we ended up after discussion going to another American style restaurant…I won't name names, but it was NOT good…best stick w/some authentic food choices while we are here…or starbucks, lol…anyway…off to bed…next up, day 4!!
---
Day 2:
Headed downtown to visitor center…on way stop Paris Baget(big pastry chain here) then at the Coffee Bean for coffee(Starbucks was across the street…they are EVERYWHERE!…then got on the subway…and off we were to Downtown Seoul (we are staying in outer Seoul). The subway system here is quite extensive, and taxis are cheap as well. Took in downtown…very modern and western.
Samsung Building:

Downtown Canal(name) and walkway/bridges: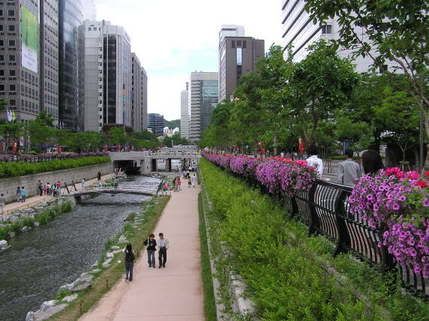 Then proceeded to folk festival (at Namsongol Hanok Village – Seoul Dano Folk Festival) on edge of downtown…very cool, lots of traditional stuff going on…

Lunch we had Chinese…for really cheap in between the folk fest stuff…
For dinner we ate w/sis' friend and fiance…real Korean food…it was cool, they brought you veggies and thin meat, and noodles, and you cook/boil it right there yourself individually. Good stuff!
---
Day 1-ish: Traveled v.v. far!
I think it was a 12 hour flight… We left SFO at 1-2ish pm on Friday and landed in Seoul like at 4-6pmish…yikes!
Picked up rented cell phone, and found the KAL bus to the city…Seoul is like 90mins from airport…yikes again! First meal after finally arriving…Japanese noodles(Oodon)…but not to worry, served w/Korean sides (kimchee, etc) so we are definitely in Korea!
Here's the hotel where we are staying…and views from…
The Samjung:

Downtown view from our room:

Tower view from our room:
Crashed…snooze!